We rapidly mobilise your PMO and run it for you. Agility, accountability and performance on a fixed monthly fee.
We work across a broad range of industry sectors and can provide support during peaks of work, or run entire PMOs, programmes and projects for you on a fixed monthly fee. This service is built on over two decades of delivery experience to alleviate the usual challenges of setting up, expanding or running project environments.
There are 3 options to quickly setting up a PMO:
OPTION 1: Use internal staff and develop their skills
It takes a long time to mature a capability if it doesn't already exist and difficult when it's not the organisation's priority; and if your PMO is set up specifically for a programme you will need to disband it at some point.
OPTION 2: Hire independent contractors
This is often expensive; difficult to find the right skills and can be slow and hard to get independent contractors to perform as a team; you also still have the procurement, contractual and HR issues to deal with. How do you know if the right/latest techniques/learnings are being used and who is the single point of accountability?
OPTION 3: Engage our PMO as a Service and take advantage of what a PMO can offer and remove the hassle
A single point of accountability and experts in the service being delivered
You engage a partner that evolves with you and responds at your pace, with the latest tools and techniques ready to go or adapt – so you don't have to start from scratch
You have access to a range of services and over 350 people that deliver Projects, Programmes and PMOs as a profession. There is always advice, support and help at hand
The right people at the right time without carrying headcount, so you obtain the ability to flex and adapt, and scale the service up or down
A predictable service and cost base
Enabling Business Agility in your delivery model and your operational cost structure
Our Iterative Approach: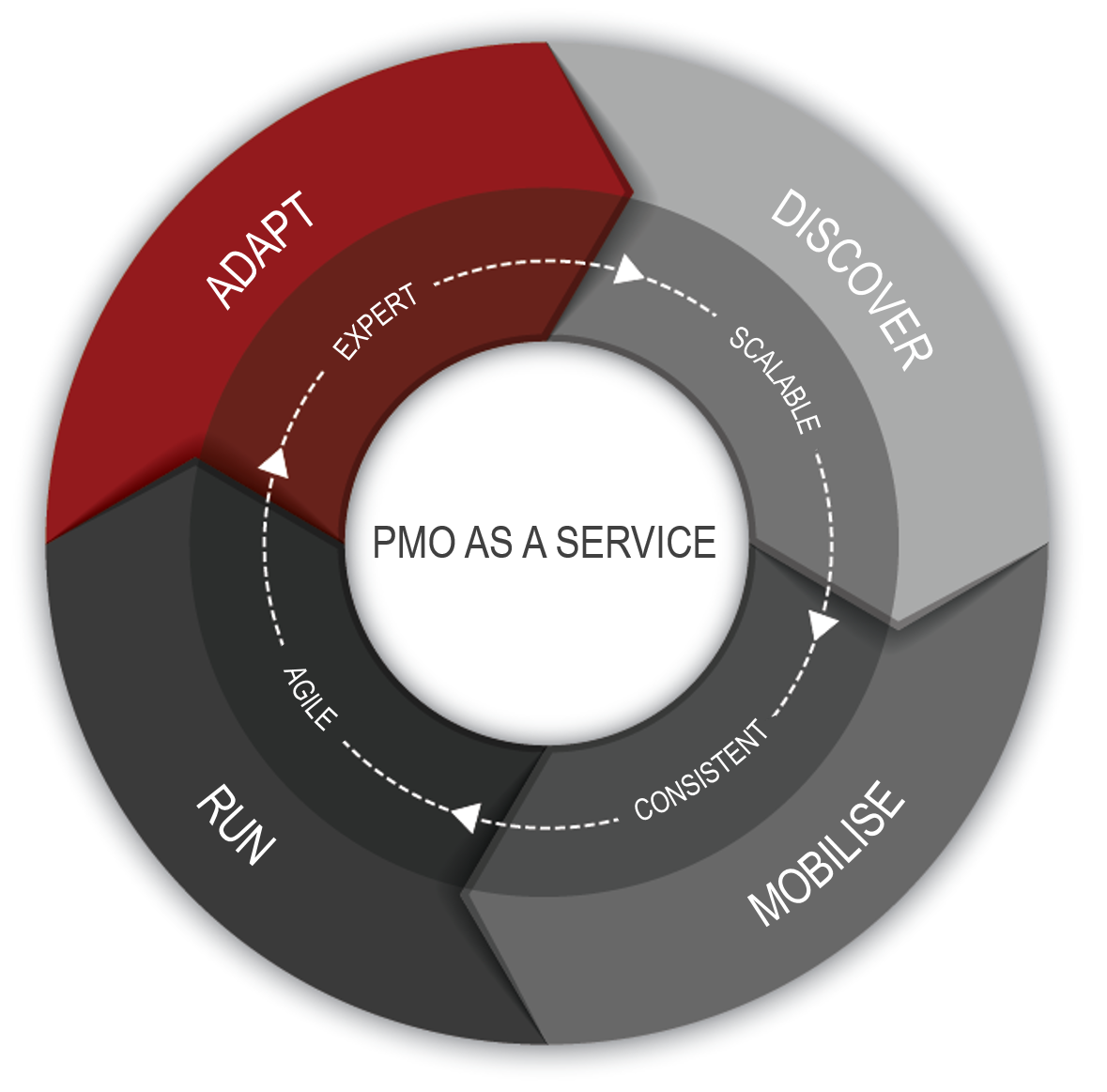 Discover – Mobilise – Run – Adapt
The managed service starts with a brief diagnostic and review of your current environment and needs to determine strategic alignment, challenges, optimal workforce structure, priorities and focus. The outcome produces a useful maturity benchmark for your future reference.